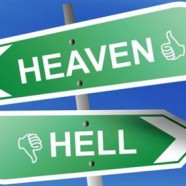 It is very simple to be saved and takes only a minute to explain.? Please let me show you how to go to heaven from the Bible, God's Word…
Man is a sinner.
Romans 3:10, "As it is written, There is none righteous, no, not one:"

Romans 3:23, "For all have sinned, and come short of the glory of God;"

Isaiah 53:6, "All we like sheep have gone astray; we have turned everyone to his own way; and the LORD hath laid on him the iniquity of us all.
There is a price on sin, eternal death in hell.
Romans 6:23, "For the wages of sin is death; but the gift of God is eternal life through Jesus Christ our Lord."

Romans 5:12, "Wherefore, as by one man sin entered into the world, and death by sin; and so death passed upon all men, for that all have sinned:"

Revelation 20:15, "And whosoever was not found written in the book of life was cast into the lake of fire."

Revelation 21:8, "But the fearful, and unbelieving, and the abominable, and murderers, and whoremongers, and sorcerers, and idolaters, and all liars, shall have their part in the lake which burneth with fire and brimstone: which is the second death."
Jesus paid that price on the cross.
Romans 5:8, "But God commendeth his love toward us, in that, while we were yet sinners, Christ died for us."

John 3:16, "For God so loved the world, that he gave his only begotten Son, that whosoever believeth in him should not perish, but have everlasting life.

1st Timothy 1:15, "This is a faithful saying, and worthy of all acceptation, that Christ Jesus came into the world to save sinners; of whom I am chief."
By faith in Jesus Christ we can be saved.
?Salvation is NOT found in a religion or good works, but in a Person…the LORD JESUS CHRIST!
John 11:25, "Jesus said unto her, I am the resurrection, and the life: he that believeth in me, though he were dead, yet shall he live:"

John 14:6, "Jesus saith unto him, I am the way, the truth, and the life: no man cometh unto the Father, but by me."

John 6:40, "And this is the will of him that sent me, that every one which seeth the Son, and believeth on him, may have everlasting life: and I will raise him up at the last day."

Romans 10:13, "For whosoever shall call upon the?name of the Lord shall be saved."
HERE IS HOW YOU CALL UPON THE LORD
Do you admit that you are a sinner?
Do you admit that you deserve to burn in hell?
Do you believe Jesus is the Son of God Who died upon the cross to pay for your sins?
If you are willing to admit your sinfulness and would like for God to save your soul, just ask Him…
Dear Jesus,
I admit that I am a sinner, deserving of hell. Please forgive me of my sins and take me to heaven when I die. I now believe upon You as my personal Savior, Amen.
Just as you were born physically to your parents, you were born spiritually into the Kingdom of God when you called on Jesus! (John 3:3).
If you had just prayed this prayer please email me @ Chris Cline
Let me be the first to rejoice with you in your new life in Christ if you have any questions feel free to let me know.